Since many people have asked about them, today I'm presenting you with one of the haunted spoons from my collection.
This is a pretty common silver-plated souvenir spoon from the 1901 Pan American Exposition, which was held in Buffalo, New York from May 1 to November 2, 1901. On the front of the handle, there is an Indian at the top, Niagara Falls in the middle, and the words "Pan Am 1901". The bowl has an etching of the Agriculture building.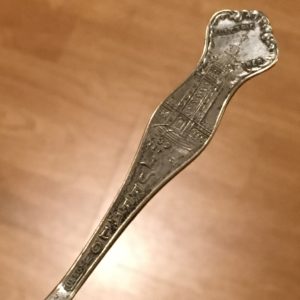 While the Pan Am Exposition of 1901 is known for showcasing many modern miracles of art, design, and technology (including the newly developed x-ray machine and electric lighting), it's probably better known as the location where William McKinley, the 25th President of the United States, was assassinated.
On September 6, 1901, McKinley had been greeting the public outside of the Temple of Music and was shot at point blank range in the stomach by anarchist Leon Czolgosz. He died 8 days later due to an infection of his wounds. (Ironically, doctors might have saved him if they'd used that new fangled x-ray machine to try to find the bullet.)

This is most likely a souvenir released by the Oneida company prior to McKinley's death. Spoons made for the expo after his death showed his profile at the top in place of the Indian.
It's no question that this spoon is haunted, but whether it's by Czolgosz the Anarchist or McKinley himself, I leave up to you, dear reader.