This gorgeous spoon was manufactured by "Florida's First Jewelers", Greenleaf & Crosby.
Damon Greenleaf started his jewelry and watch repair business in Jacksonville, Florida in 1867 with Joseph H. Crosby joining him a few years later. They later expanded to cater to tourists, opening stores in hotels in St. Augustine (1887), Palm Beach (1894), and Miami (1900).
I'm not sure when or where this spoon made it into my collection, but it's long been one of my favorites for the detail and shape of the bowl. It was only last week, however, that I tried to get a closer look at the back of the handle with a magnifying glass.
The Royal Poinciana was a giant, sprawling hotel built by oil and railroad tycoon, Henry M. Flagler. When the hotel opened in 1894, Greenleaf & Crosby had a store in the rotunda, selling exquisite (and expensive) jewelry, china, and souvenirs to the elite tourists and residents of Palm Beach.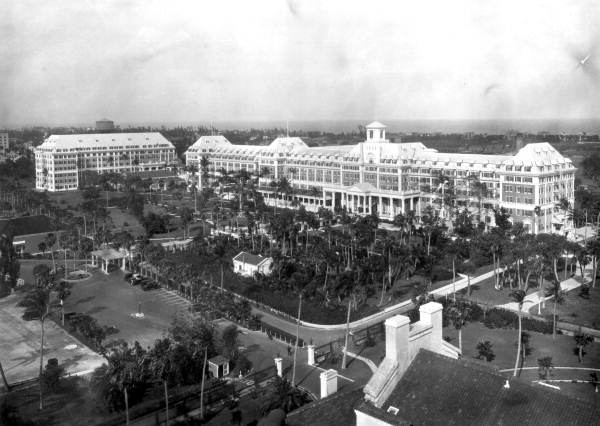 With 1,500 guest rooms and seven miles of corridor running through six stories, The Royal Poinciana was the largest wooden structure in the world at the time.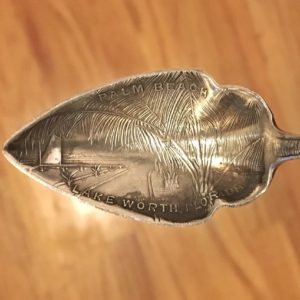 I have seen other versions of this spoon that have a Dominick and Haff silver hallmark and a patent mark of 1893 that indicates it was produced in anticipation of the hotel's opening in 1894, but these spoons do not have the leaf-shaped bowl. There are no marks on the back of my spoon other than the Greenleaf & Crosby name, which could put its manufacture date later than 1900.

The souvenir of this beautiful hotel outlived the hotel itself. Business started declining in 1925 as tourists found the old gilded age hotels to be outdated. In 1928, a hurricane caused severe damage to the north wing of the building, shifting it off its foundation. It was repaired and re-opened, but the Great Depression took its toll and the hotel closed in 1934, only 40 years after it opened. It was torn down in 1935.