"I believe in a happy eternal life…"
This is the beginning of The Builder's Creed, written by Dr. Hubert L. Eaton in 1917, the same year he took over management of the Forest Lawn Cemetery in Glendale, California. Eaton was a firm believer in a joyous life after death and had a vision to transform Forest Lawn from a place of sorrow and death, to a place for the living that would inspire, comfort, and uplift the community.
"I shall try build at Forest Lawn a great park devoid of misshapen monuments and other customary signs of earthly death, but filled with towering trees, sweeping lawns, splashing fountains, beautiful statuary, cheerful flowers, noble memorial architecture full of light and color, redolent of the world's best history and romances."

– from "The Builder's Creed" by Hubert L. Eaton, 1917
Eaton renamed the cemetery "Forest Lawn Memorial Park" and eliminated upright grave markers, brought in works by established artists, and incorporated beautiful architectural elements. He was also the first to open a funeral home on dedicated cemetary grounds.
The beauty and grace of an afterlife at Forest Lawn was available to anyone who could afford it…as long as you were white and Christian. For many years, if you were Jewish, Chinese, or black, the doors were closed to you. In fact, the only cemetery in LA that didn't discriminate was Evergreen Cemetery in Boyle Heights, which boasts an incredibly diverse population of the dearly departed dating back to when it opened in the 1870s.
Modern day Forest Lawn doesn't discriminate based on religion, race, or color, but there is no attempt to hide the class structure for the dearly departed. If you wanted to visit Humphrey Bogart or Mary Pickford's graves in the Garden of Memory, for instance, you'd need a special golden key, given only to family members after their loved one is interred.
In keeping with its Builder's vision, Forest Lawn has played host to more than 60,000 weddings. There are three non-denominational chapels on park grounds: "The Little Church of the Flowers", "The Wee Kirk o' the Heather", and "The Church of the Recessional". All three are replicas of famous European churches.
Wee Kirk O' the Heather was built in 1929 and designed after Annie Laurie's church in Glencairn, Scotland.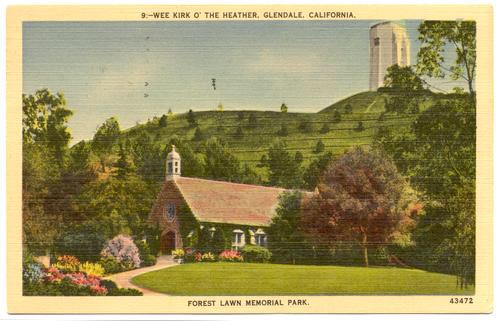 Somehow, I ended up with a Wee Kirk O' the Heather spoon. It has a replica of the church at the top and says "Forest Lawn Memorial Assn." on the back.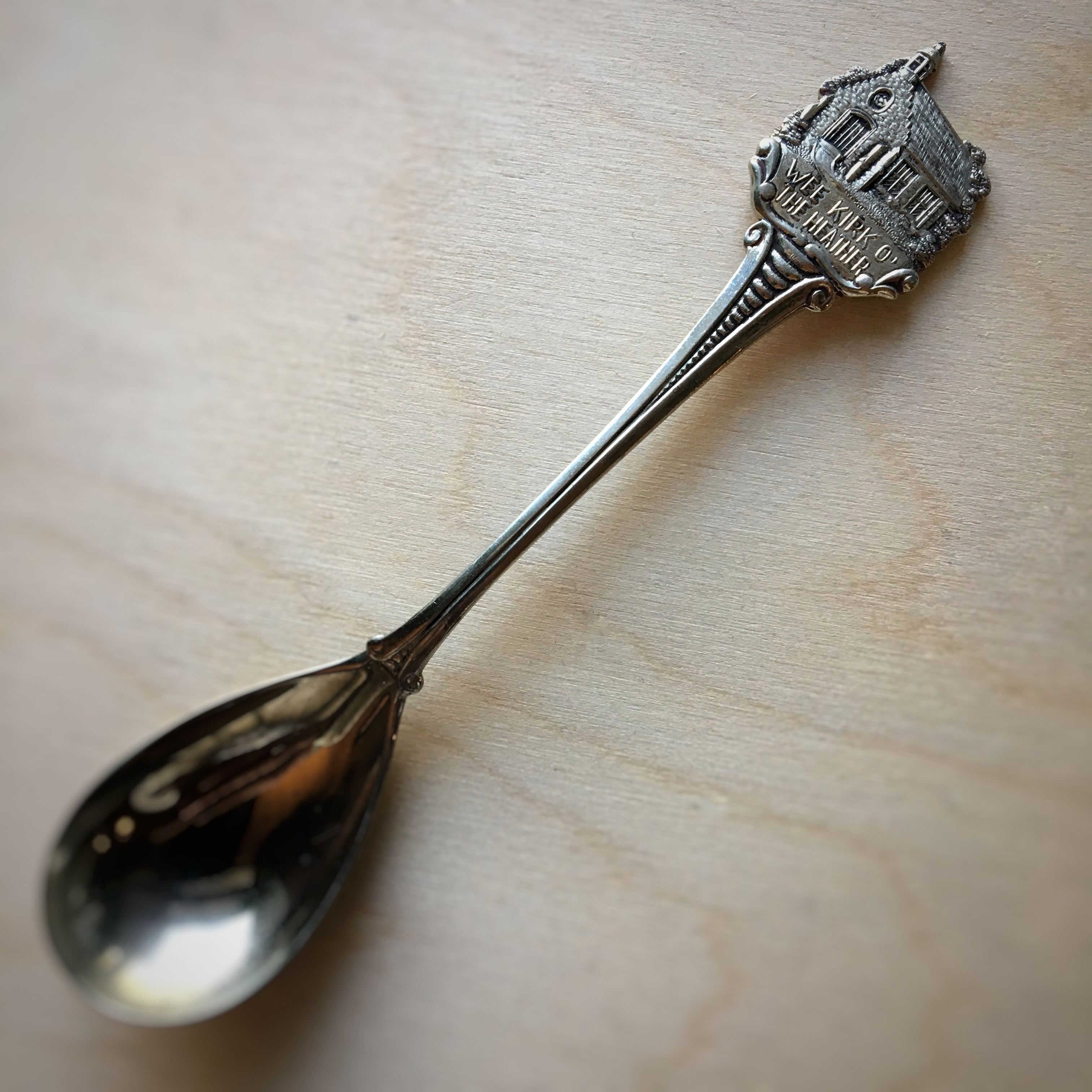 Haunting Status: Seeing as how the spoon comes from an actual cemetery, it's totes haunted.